Jul 11, 2019
The best bar none!
"Excellent place to chill over drinks. Lovely atmosphere and superb service. Drinks were perfectly mixed and chilled."
"We went to the bar for a few drinks and I have to say I had a couple of Jaffa martinis and OMG these were to die for."
"The ambience of the bar cannot be beaten and I loved the White Russian special they did. Service is on point…absolutely love this place."
Just some of the recent standout reviews from TripAdvisor on the IX Bar. But, truth be known, we feel a little bit bad about these guest experiences.
Compass00461840512, Shazza7306 and John Doe, you made these reviews in good faith and in the belief that you'd been sipping the very best cocktails that Aberdeen has to offer in the city's most stylish surroundings.
But now we must apologise to you unreservedly. We're ashamed to admit that we appear to have pulled the wool over your eyes… as we can now exclusively reveal - with these computer-generated images of our new bar – that the best in town is about to get a whole lot better!
As regular visitors to the IX Bar will know, the hotel is being extended into the neighbouring buildings. Later this year we'll be taking the wraps off an amazing new bar, with double the floor space of the current one.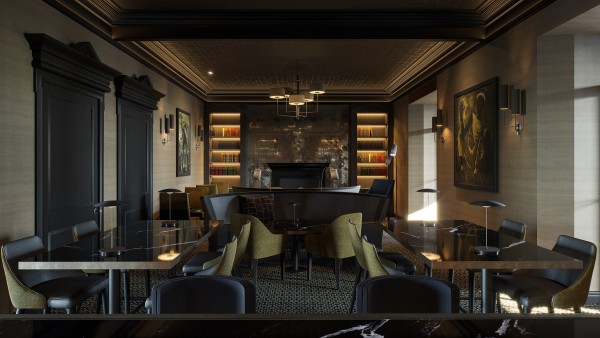 In one section the colour palette is dark and decadent, to give the feel of a traditional cocktail bar, while in the back section a sun terrace is bright and airy and gives off a modern-day palm court vibe. We promise that both will have excellent lighting for selfies in the Aberdeen's hottest spot.
Snuggle in at a cosy booth for late night drinks, grab the gang for a well-deserved night on the tiles, or kick back on the sun terrace at the end of the working week – we'll be delighted to serve you whatever the occasion.
The IX Bar continues to operate as normal during the refurbishment - part of which has already been completed with the outdoor seating area at the front of the hotel - and we continue to serve up the finest craft beers, local spirits and dazzling cocktails.
Our cocktail menu will be refreshed to go along with our sleek new look: the mixologists that you've all come to know and love are currently working their magic to bring you some amazing new taste combinations.
But, fear not, we'll still be serving up the Chester classics and your all-time favourites.
Breathe a sigh of relief Shazza7306…Jaffa martinis all round.